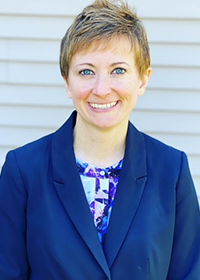 State Co-Chair
holly.craider@tri-c.edu
Executive Director, Curriculum Development and Assessment
Cuyahoga Community College


Dr. Holly Craider is the Executive Director of Curriculum and Assessment and an adjunct faculty member in the Liberal Arts department at Cuyahoga Community College, and also serves as an adjunct professor in the School of Foundations, Leadership, and Administration at Kent State University. With 18 years of experience as a higher education professional, she has worked in the areas of admissions, financial aid, student success, recruitment, eLearning & Innovation, academic affairs, curriculum development. At Cuyahoga Community College, she has spent the last 13 years serving in the roles of Student Success Specialist, Recruitment Specialist, Interim Manager of Next Generation Learning, Director of the College Information Center, Interim Assistant Dean of eLearning, Dean of Student Affairs, Interim Dean of Academic Affairs, and her current position. Craider also serves as a Peer Reviewer for the Higher Learning Commission.
Craider has been a regular presenter for professional organizations including the ACE Women's Network of Ohio, the National Resource Center for the First Year Experience, American College Personnel Association, and the National Career Development Association. Her areas of research include appreciative inquiry in regard to first-generation community college students and the utilization of communication as a means to motivate and uplift students and higher education professionals.
Dr. Craider is a Ralph M. Bessel Teaching Excellence award winner and is a graduate of both the John Rouche and HERS Wellesley leadership institutes. Currently, she is participating in the Greater Cleveland Partnership inaugural leadership program. She has a Ph.D. in Higher Education Administration from Kent State University and is pursuing her juris doctorate degree at Akron Law.