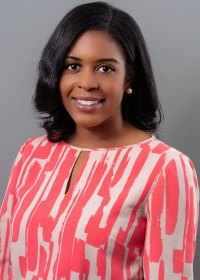 Dr. Shantelle K. Jenkins is Associate Professor and the Assistant Vice President for Graduate and Professional Studies (GPS) at Mount Vernon Nazarene University. She is a faculty member in the Jetter School of Professional Studies where she serves as Program Coordinator for Leadership. As Assistant Vice President, she is the chief author or final reviewer of all new programs and degree proposals. Working in collaboration with the office of Academic Affairs, external review authorities and accreditation bodies, Dr. Jenkins is tasked with the responsibility of ensuring that programs are consistent with the mission, vision, and values of the University. Her areas of responsibility include developing financial and budget plans, providing support to academic program coordinators, and collaborating with the Office of Institutional Effectiveness. She serves on the President's Council and is the Accreditation Liaison Officer (ALO) for the School of Graduate and Professional Studies.
 
A strong advocate for students and faculty development, particularly the inclusion and success of students and faculty from historically underrepresented groups, Dr. Jenkins has over two decades of experience in social justice education. Twenty years ago, she began her career as a research assistant for the Ohio Department of Education and has since spent 12 years in community college administration prior to transitioning to the university.
 
Dr. Jenkins is a faculty lead collaborator for an Academic Think Tank and has guest lectured on topics related to inclusive pedagogy, women in leadership, and student learning assessment. She has presented at both national and international conferences.
 
She holds a Bachelor of Arts in Journalism from The Ohio State University, Master of Science from Saint Joseph's University (Philadelphia, PA), and a Doctorate in Educational Leadership from the University of North Carolina at Charlotte. Dr. Jenkins also has a certificate in non-profit management from Bryn Mawr College and enjoys serving her community through philanthropic efforts. Her research interests include executive coaching, women in leadership, succession planning, equity and inclusion, and faculty development.