I am pleased to announce The 8th Annual Sister Accord® Day Virtual Celebration Honorees & Performers for our special day on August 31, 2021 from 7-9 pm ET. If you are getting ready for New Edition's Las Vegas Residency that was recently announced, you will enjoy a special treat as my Brother, Grammy® nominated Singer/Songwriter/Producer Johnny Gill, will perform & receive The Sister Accord® Leadership Award for his stellar career & community service supporting children on the autism spectrum.
Grammy® nominated Gospel Artist, Byron Cage, whose voice is anointed & inspiring, will also perform and receive The Sister Accord® Leadership Award for his stellar career and commitment to Excellence in serving God's people with the gift of song.
Grammy® Award-Winning DJ, Producer & Writer, DJ Spinderella, will keep our celebration pumping for Sister Accord Day and will also receive The Sister Accord® Leadership Award for being a trailblazer, a legacy builder, as one of the first women DJs in the world! DJ Spinderella is one of the original pioneers of hip hop music beginning her career as a member of the iconic rap group, Salt-N-Pepa, selling over 15 million albums & singles worldwide.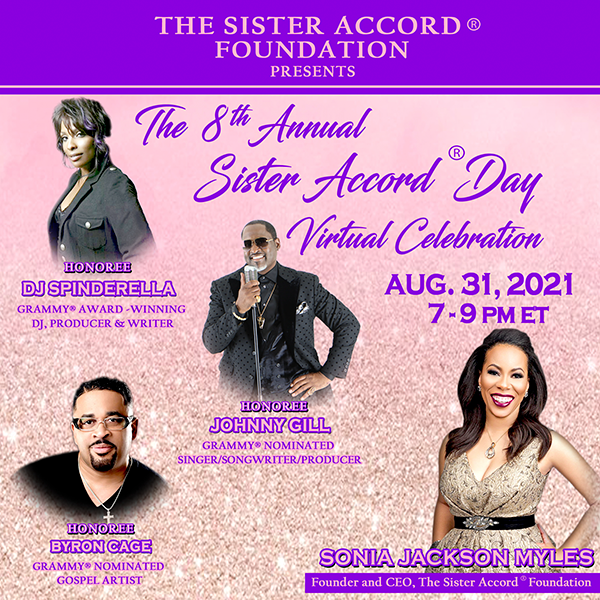 I must give honor where honor is due! Introducing 3 of my special Mentors who have blessed me immensely
 - Jim Bechtold, Chief Innovation & Impact Officer, CEO Forum
 - Daymond John, Founder/CEO FUBU & Star Of ABC's Shark Tank
 - Janet B. Reid, Ph.D., Founder & CEO, BRBS World, LLC
You will hear more about their powerful & inspiring stories and their impact on me and my Entrepreneurial Journey on Sister Accord Day! I'm so grateful, humbled & blessed to have these amazing people in my life!
You know how The Sister Accord® Foundation operates so with this 8th Anniversary (8 represents New Beginnings) you are going to be showered with LOVE & inspiration for 120 minutes! We are literally going to embrace the world with LOVE on August 31st! The world needs LOVE & we have plenty of it to give! It is our core, it is our mantra, it is our lifestyle!
We will share special news regarding how The Sister Accord®️ is continuing to spread LOVE, save and transform lives. We will also have a special tribute to my Sands (AKA Line Sister) who passed away suddenly on June 8, 2021, at the age of 53.
The first 130 people who purchase tickets will receive The 8th Anniversary Sister Accord®️ LOVE Box!
The link to purchase tickets is here: https://www.eventbrite.com/e/the-8th-annual-sister-accord-day-virtual-celebration-on-83121-tickets-165219511005
Please share, share, share our great news with your friends, family & colleagues!!! We are going to have a great time!!
LOVE To All ~ SJM